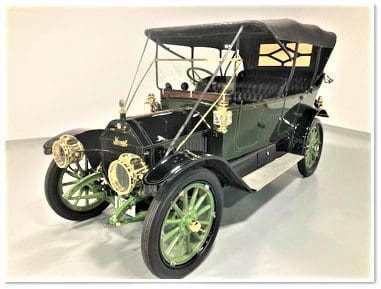 The Maxwell-Briscoe Company, later the Maxwell Motor Company, manufactured automobiles in the United States from 1904 to 1925. For a time, Maxwell was considered one of the top three automobile firms in America, along with General Motors and Ford. Maxwell was one of the first car companies to market specifically to women. In 1909, it generated a great deal of publicity when it sponsored Alice Ramsey, an early advocate of women drivers, as the first woman to drive coast-to-coast across the United States. Maxwell cars soon became well known for their durability. In the fall of 1911, a trio of 1912 Maxwell cars won the 1454-mile Glidden Tour reliability run from New York to Jacksonville, Florida.
The Maxwell trio were the only cars to finish the race with perfect scores. This feat was best recorded in a 1912 issue of Automobile Dealer and Repairer when it wrote "Of 64 of America's leading cars, some costing $6,000 each, which competed in the most grueling contest in motor car history, the Maxwell came through as the only team with perfect scores. Whirling over the roads at railroad speed, plowing through mud and sand, fording swollen streams, pounding over the Appalachian Mountains through a cloudburst, and surmounting obstacles that no ordinary tourist would ever meet, they led the way into each control with time-table precision and justly earned the title of AAA National Touring Champions.
They completed their daily journey on the exact schedule, although several times the committee conducting the event had to extend the fixed schedule time to offset unexpectedly difficult conditions met with. The Maxwells never needed these extensions." The 1912 Maxwell victory was made even more remarkable by the fact that it had duplicated the previous year's triumph in the Glidden Tour when Maxwell likewise achieved the best score. Unfortunately their good fortune would soon come to an end as they over-extended and wound up deeply in debt, with over half of their production unsold in the 1920 post-World War I recession. The following year, Walter P. Chrysler arranged to take a controlling interest in Maxwell Motors. In 1925, Chrysler formed his own company, the Chrysler Corporation. That same year, the Maxwell line was phased out and the Maxwell company assets were absorbed by Chrysler.
The 1912 Maxwell in our collection is a top of the line "Special" touring car that had an MSRP of $1480 dollars ($40,100 in 2021 dollars). It features brass acetylene gas headlamps, painted hickory wood spoke wheels, 17-inch wood steering wheel, speedometer, fabric convertible top with removable fabric side panels and tufted leather upholstery seating. It is finished in 18 coats of deep forest green paint (a popular color of the era) and is accented by glossy black fenders and hood. It is powered by a 281 CID 4-cylinder side valve engine paired to a 3-speed manual sliding-gear transmission producing 36 horsepower. The Maxwell also sports a rare porcelain 1912 license plate "Wichita 1195" displayed on the front of the car. Prior to 1913, Kansas did not require license plates on vehicles, however, many cities issued their own such as this Wichita issued plate.