1925 Springfield Silver Ghost Salamanca Collapsible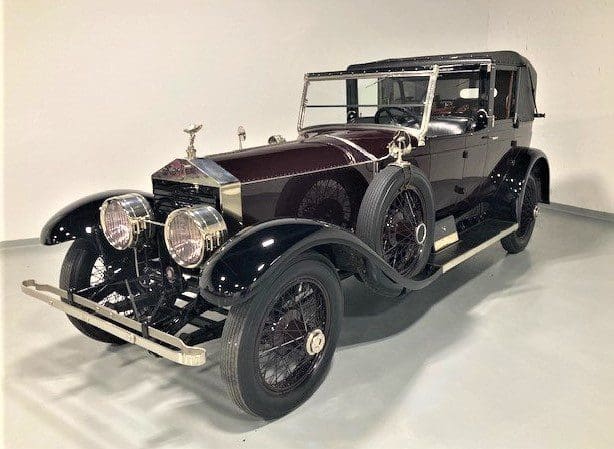 The Roaring 20s was a time of prosperity, glamour, and the "Golden Age" of Hollywood. This elegant 1925 Rolls-Royce Silver Ghost Salamanca collapsible encompasses all of that and more. The striking Rolls-Royce grille and radiator are handmade using German silver and is crowned by the signature Rolls-Royce "Spirit of Ecstasy" hood ornament. Not all Rolls-Royce motor cars were built in England. This is one of 2,945 that rolled off the assembly line in Springfield, Massachusetts between 1921 and 1931. Powered by a 7428 CC L-Head 6-cylinder engine with dual ignition it is mated to a 3-speed manual transmission, yielding 48.6 horsepower. The chauffeurs stately open-air front compartment is separated from the luxurious rear passenger cabin by a divider with retractable glass. The passenger cabin can be completely enclosed or by folding the top back, opened to the stars. Personal luxury appointments include a microphone for communicating with the driver, a vanity, clock, light switch and mirror for the lady and a cigar lighter and ashtray for the gentleman.
This Rolls-Royce Silver Ghost was originally owned by silent movie stars Rod LaRocque and Vilma Banky. It was later acquired by Warner Bros. studio where it made several appearances in movies including "Blood Alley" with John Wayne and "By the Light of the Silvery Moon" with Doris Day in the early 1950s. This Springfield Rolls-Royce benefited from the creativity of US coachbuilder Willoughby. Elegant, yet pricey at $15,560, this Rolls-Royce Silver Ghost Salamanca collapsible was one of the most expensive bodies available on the Rolls-Royce chassis and is the only known left-hand drive Salamanca collapsible in existence. Finished in deep Silver Cloud Garnet with black fenders it makes a stately presence upon its arrival.