1931 Century Six Series S Coupe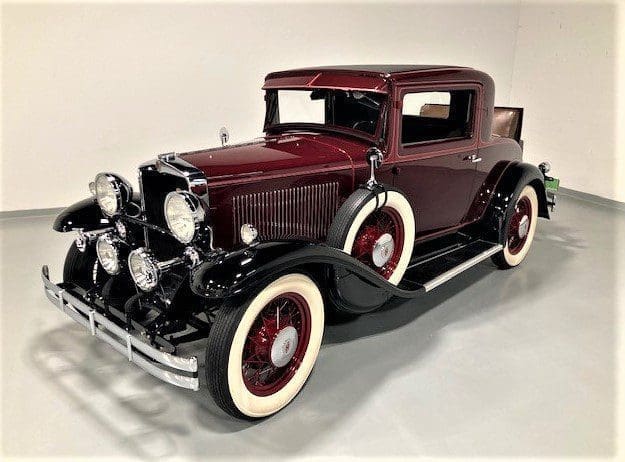 The Hupmobile was built from 1909 through 1939 by the Hupp Motor Car Company of Detroit and was known for its economy and dependability. Founder Robert C. Hupp was an engineer who worked for Oldsmobile and Ford prior to setting up his own car company in 1909. In a constant effort to remain competitive, Hupp introduced a number of new features, and was one of the first U.S. automakers to equip their cars with "free wheeling", a small one-way clutch that allowed the car to coast without driving the engine. Hupmobile also pioneered fresh-air car heaters with the Evanair–Conditioner. The Series S was Hupmobiles bread-and-butter car and was produced from 1929 to 1931. Sales and production began to fall even before the depression in 1930. A strategy to make the Hupmobile a larger, more expensive car began with the 1925 introduction of an 8-cylinder model, followed by the elimination of the 4-cylinder Hupmobile after 1925. (Hupmobile made only 4-cylinder cars from 1909 to 1924.) While aiming for a more lucrative market segment, Hupp turned its back on its established clientele. This was the same mistake that many other medium-priced carmakers made at the same time. In an attempt to capture every possible sale, they offered many different models. With Hupmobile's low production volume, the result was that no model could be produced in sufficient quantity to achieve economy of scale. Desperate for a return to market strength, on February 8, 1938, Hupmobile acquired the production dies of the Gordon Buehrig-designed Cord 810, paying $900,000 for the tooling. Hupmobile hoped using the striking Cord design in a lower-priced conventional car, called the Skylark, would return the company to financial health. Enthusiastic orders came in by the thousands, but production delays soured customer support. After several attempts to turn the company around, Hupmobile ceased production in the summer of 1939.
The Midwest Dream Car Collection is proud to display this beautiful 1931 Hupmobile Century Six Series S two-door coupe. It is equipped with the factory correct 211.6 CID 6-cylinder engine paired to a 3-speed manual transmission. The car is finished in a rich two-tone deep burgundy color with black fenders. The accessory dual driving lights are centered between twin horns, all beautifully finished in highly polished chrome. Four wide whitewall tires are mounted to the burgundy wire spoked wheels along with two additional side mounted matching spare tires and wire wheels. Two matching chrome side rear view mirrors are mounted to the spare tires with leather straps. A matching burgundy painted trunk is mounted in the rear. This national award-winning car was beautifully restored and maintained by its former longtime owner, Richard Peters, of Trilla, IL. The Midwest Dream Car Collection acquired the car in August of 2021.
Wikipedia
Encyclopedia of American Cars