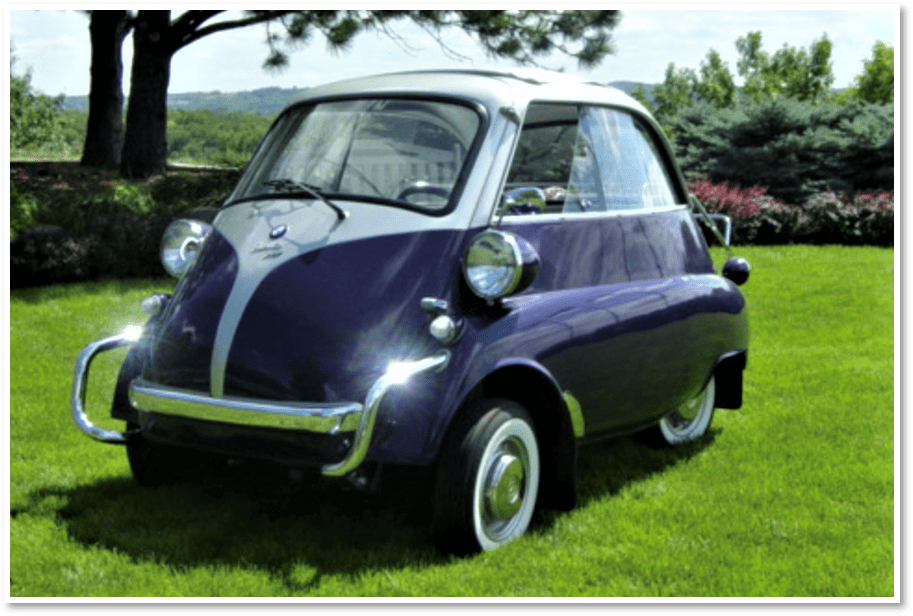 The BMW Isetta
This 1957 BMW Isetta was previously owned by Duane Saunders, a Kansas State graduate, U.S. Army colonel, clinical physical therapist, author, inventor, and car enthusiast. Duane is the author of The Truth Is Good Enough, a book about his eclectic life and experiences. His 1957 BMW Isetta is a beautifully restored classic and is featured in K-State purple and silver. This isn't an original color, but it was painted in recognition of his alma mater. The car was in terrible condition when found, but meticulous restoration has brought it back to near-perfect condition.
The BMW Isetta is an Italian-designed vehicle that's considered a "micro car." Isetta was originally produced by Iso of Italy, an independent entity that was licensed to automobile manufacturers in a number of different companies and countries worldwide. It was eventually picked up by BMW as a small European car, but with some tweaks and revisions. In 1955 it was unveiled as a BMW with a new 247-cc one-cylinder motorcycle engine. The power plant produced a total of 13 horsepower. For 1956, the Isetta was revised in response to regulations in Germany, which pushed them to add a 300-cc engine (it remained a one-cylinder).
The car was legally drivable with only a motorcycle license, which was part of the appeal of micro cars in Europe in the 50s and 60s. Because it only has a single front door, the sunroof was added, not only for driving but as an emergency exit in the event of a front-end collision. The steering wheel is actually attached to the front door as well (for easier access to the driver's seat), so it hinges and comes out as the door opens.
This is not a 3-wheel car (with a few exceptions). It actually has four wheels, but the two in the rear are significantly closer than those the front. The engine is located on the passenger side, in a small compartment toward the rear.
The total weight of the Isetta is almost 770 pounds, and it's 89 inches in length, making it exceptionally maneuverable (because extremely small). The gear shifter is on the left-side wall, and the turn signal is on the right side of the steering column. Amazingly, the Isetta also has a heater (which uses a single, floor-mounted vent).
The BMW 600
The BMW 600 is similar to the Isetta but enlarged to fit the whole family. The expanded wheelbase and body allow for a four-seat configuration and a rear door. However, this makes the car larger and heavier, so a new power plant is needed to compensate. The name "600" was chosen because of the 582-cc twin engine (derived from the R67 Motorcycle), which had a top speed of 62 miles per hour.
A direct competitor to the successful Volkswagen Beetle, the 600 lasted only two model years (production ran from 1957 to 1959). It was BMW's first postwar four-seat economy car. Though unsuccessful, it led to the creation of the BMW 700, which eventually launched BMW into the car market.
Duane Saunders said this about his BMW 600 cork car: "About a year after I finished corking the Isetta and halfway through corking my map of Europe, my 1958 restored BMW 600 was calling out to be corked. I decided to dust off the Dremel tool and get to work on corking the 600. I must have improved my corking technique, because I completed my second corked classic in only seven months! The 600 used about 3,000 corks, and I enjoyed the creative challenge. I have displayed my corked 600, along with the corked Isetta, at several car shows, art shows, and wine festivals over the last few years."
We are fortunate to have the opportunity to display two of Duane's cars here at the Midwest Dream Car Collection. He said:
"I am often asked if I would ever sell one of my restored BMWs, or any of my classic cars for that matter. I certainly have a different feeling about the cars I've restored versus the ones I've purchased already completed. When I would walk through the warehouse to decide which car to choose next, I could almost feel the cars trying to send me a message to pick them next to be restored. Imagine they have been abandoned in a barn or left out in a pasture for 40 to 50 years in a terrible condition. I feel an attachment to the cars I rescued, and I know how happy each one of them must be now that I have restored all of them to their former glory.
The favorites in my collection are the corked cars, for obvious reasons. The terrible state they were in when we started, and the time, care, and attention spent on them, makes them the front runners. Not only the exterior's unique beauty, but the interior quality and mechanics as well turned out better than I imagined. The blue and green BMW 600's are the latest ones we've restored, and I think we did our best work on them, as we had more experience. All of the restored cars in my collection I'm proud of and are very well done."