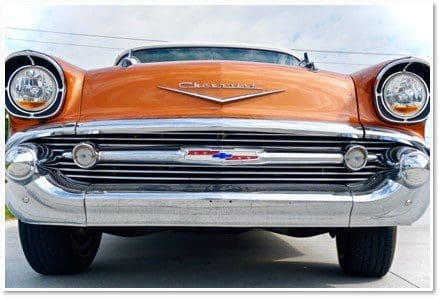 This car was approximately the 11,000th that Chevy produced in its Flint, Michigan plant in 1957. It's a 4-door Chevy 150 that's been upgraded to the styling of a Bel Air. It had an 8-cylinder 265-CID with a 3-speed on the column transmission. The conversion to a resto-mod Bel Air began in 1996 and was completed in 2013.
The original 1957 Chevy 150 was found in Silver City, NM, a one-owner, rusty, old barn find. Originally featuring a Rochester carburetor, it was tough to keep running. Jerry Schell, its new owner, began the overhaul began by removing the 265 and reading the mounts for the 350 Chevy crate engine. He then mounted the engine and the Tremec 6-speed transmission. Next came the rack-and-pinion steering and a shift adapter, with a Chevy Ididit chrome tilt steering column. Then the firewall and underside were painted with the engine parts and an A/C was installed. The 350-crate engine has 290 horsepower using an Edelbrock 4-barrel carburetor and manifold.
A classic instruments gauge kit was installed, with tan faces, brown numbers, original-type orange needles, and a clock. The car was then smoothed, the old 150 chrome and paint were removed. It was repainted in Corvette atomic orange, and then the pieces began their slow process of coming back together. A new sound system was installed for an effective resto-mod transformation. This consists of Rockford Fosgate amps and crossovers for four speakers and subwoofers. A compressor was also added for the train horn on the front of the car.
This resto-mod features classic styling from the 1950s with upgraded touches for a more modern feel. Resto-mods are common among tri-five-era Chevy's, as they allow owners to add their personal touches to a modifiable classic. This makes each car unique and allows people to turn a classic car into their own dream car.
The 1957 Chevy Bel Air epitomizes the American car of the 1950's. It is also one of the most-memorable cars of all time. Many recognize the 1957 Chevy as the best-looking year from the tri-five era. A fairly basic and somewhat-dated design at heart, the '57 Bel Air added subtle touches and exaggerated chrome pieces that really made it stand out among the crowd. These are some of the most popular collector cars to ever be made so it is not uncommon to find them with car enthusiasts of the world, today.