1958 Cadillac Custom Roadster SWB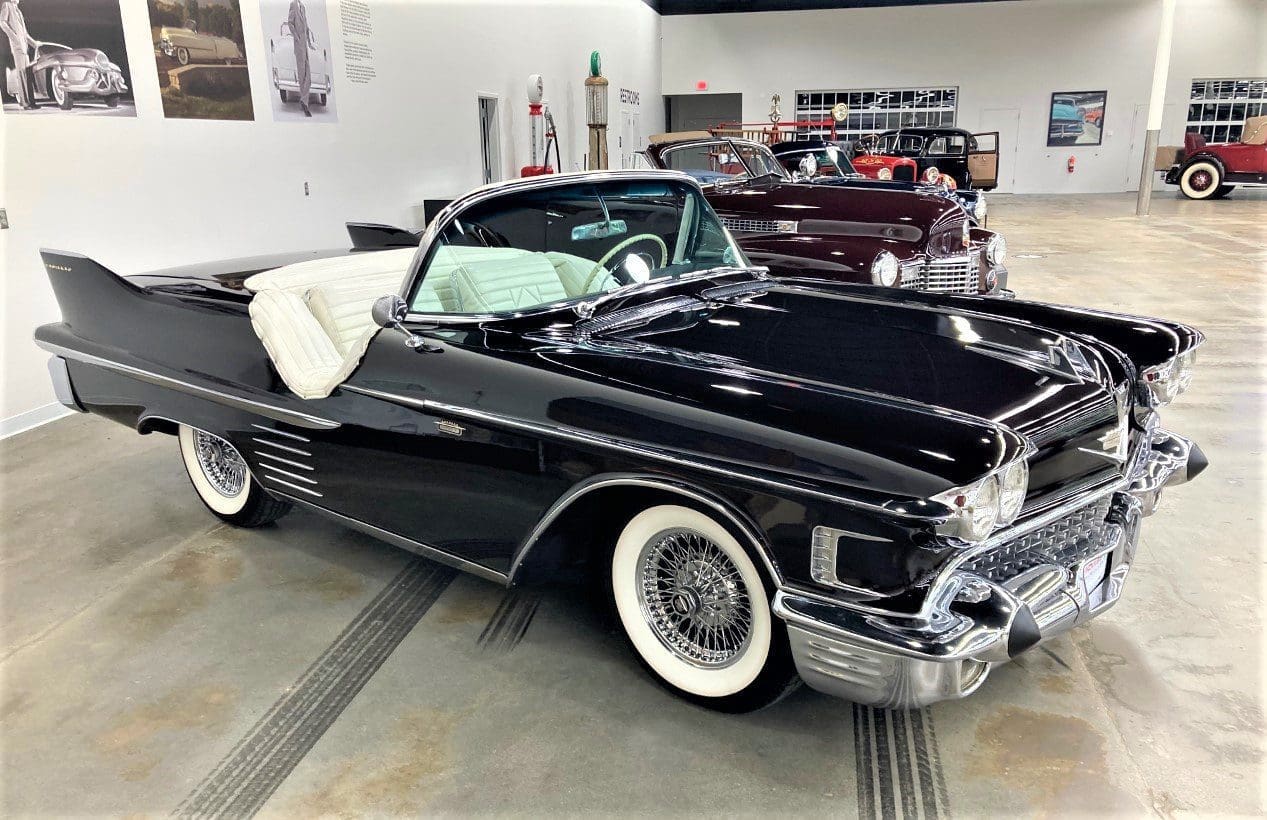 The car before you is a one-off 1958 Cadillac Custom Roadster that was acquired by the Midwest Dream Car Collection in 2018.
How it all began
When Detroit rolled this beautiful car off the assembly line in 1958, it was a Cadillac (Series 62) Coupe Deville finished in a stunning code-29 peacock (deep turquoise) with a code-12 alpine-white top. The factory interior was upholstered in luxurious silver-and-black Calcutta cloth with white leather accents. The car came also equipped with such goodies as power steering, power brakes, power windows, 6-way posture-control power seats, E-Z-Eye glass, heater, two-speaker automatic signal-seeking (Wonderbar) AM radio, power antenna, remote-control power trunk-lid release, and bias-ply whitewall tires. The powerplant was a 365-CID V-8 overhead-valve engine with a four-barrel carburetor that produced 310 horsepower at 4800 RPM. That was coupled with a 4-speed Hydra-matic transmission. The base price before options was a hefty $5,251 (about $46,000 today).
About the customization
Little is known about when the customization of this two-door roadster started; the work was something of a metamorphosis that took place over a number of years under at least two different owners. Dave Morehouse of Oregon purchased the car in an estate auction in 2009 and owned it until 2016. According to Dave, the car had already been shortened by around 24 inches from its original 129.5-inch wheelbase, removing the entire rear seat space. The two doors had also been welded shut and a single small recessed foot-step added to each side near the rocker panels. In place of the now fixed, non-opening side doors, customized sculptured cut-out door scoops were added to each side, allowing for easier entry and a sporty look. Then a coat of lighter turquoise-blue paint was applied over the original peacock, and the car was re-upholstered with an all-white tuck-n-roll leather interior, including the addition of leather padding over the door scoops. The auctioneer who sold Dave the car mentioned that it had been customized as a parade car for the former owner's grandchildren to ride in.
The car you see today is how it looks after Dave added his own customization touches to it. He had the notched, recessed footholds removed, as he said they were pretty much useless, and he sealed over the front door seams that had been left exposed. The smoother side panels give a more continuous, flowing, and sporty look to the car. It was then refinished in a deep, rich metallic purple with new wide whitewall tires mounted on gleaming wire-spoked wheels. The new look gives the appearance of something GM's late head of styling Harley J. Earl might have designed himself. Under the hood, the car is still equipped with its factory original V-8 engine, which gives more than enough power to move this customized roadster smoothly down the road. Today, this car is a blast to drive, an instant hit at car shows, and a real eye-catcher whenever it's out on the road.
Is the customization done? Who knows, but imagination is magical!
Gunnell, John A. (1982). Standard Catalog of American Cars 1946-1975. Krause Publications. ISBN 0-87341-027-0.