1959 Pontiac Catalina Safari Station Wagon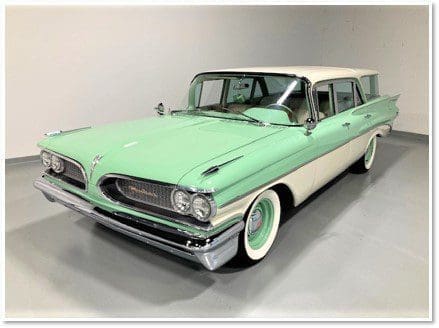 The American station wagon is in many ways the unsung hero of automotive history. In the 50s, 60s and 70s you were far more likely to have a station wagon parked in your driveway than any other type of vehicle, and the 1959 Pontiac Catalina Safari wagon was one of the nicest.
The Pontiac Catalina is a full-size automobile produced by Pontiac from 1950 to 1981. Initially, the name was a trim line on hardtop body styles, first appearing in the 1950 Chieftain Eight and DeLuxe Eight lines. In 1959, it became a separate model as the "entry-level" full-size Pontiac. 
For 1959, Pontiac dropped the name "Chieftain" and "Super Chief" models for its entry level model and renamed it "Catalina", while demoting the former top-line Star Chief to mid-line status eliminating the two door StarChief Catalina, the only hardtop for the StarChief was the four door hardtop and expanding the Bonneville nameplate to a full flagship series that included sedans, coupes, convertibles and Safari station wagons.
In the lower-priced Catalina line, Pontiac division advertising placed higher emphasis on the top trimmed two- and four-door hardtops, convertible and Safari station wagons instead of the pillared two- and four-door sedan variants despite the fact that the four-door sedan was the best seller in this line.
The Catalina, though it was the lowest-priced full-sized Pontiac, was priced and trimmed below the Chevrolet Impala due to GM's overlapping price structure formula only a step below the Buick LeSabre and Oldsmobile 88 in trim and appointments but priced about $100 to $200 less. Catalinas also came standard with more amenities than Chevrolet models and included a larger and more powerful V8 engine of 389 cubic inches, compared to the Chevy's six-cylinder or 283 and 348 cubic-inch V8s. Pontiacs also benefited from a much better automatic transmission than their Chevrolet counterparts – the four-speed Hydra-Matic – versus the Chevy's two-speed Powerglide.
Though the basic Catalina started out with a full rubber mat, it could be ordered with full carpeting, glovebox and trunk lights; dual front ashtrays, cigar lighter, glove compartment snack bar (two cup indents on the glovebox door that could be opened for use at drive-in restaurants) were standard, heater-defroster and a choice of cloth and Morrokide vinyl upholstery or expanded Morrokide (all-vinyl trim) optional. Pontiac buyers could add even more trimmings for a few dollars more by ordering the "decor group" which added full wheel covers, deluxe steering wheel, chrome pedal trim plates and more. 
Catalinas and other 1959 Pontiacs were completely restyled on a new General Motors B-body that was shared by all GM divisions from Chevrolet to Cadillac, replacing the previous A-body utilized for Pontiacs and Chevrolets that was used only for 1958. Twin tailfins, two on each side, were new and only in 1959. Styling highlights include thin-pillar rooflines and greater use of glass for increased visibility. Pillared four-door sedans feature six-window styling, while two-door hardtops were dubbed "bubbletops" due to the large wraparound bubble windshield and thin c-pillar and large rear window; four-door hardtops featured flat-blade rooflines with an overhang past the rear window. Wheelbases were 122″ for Catalina and 124″ for StarChief and Bonneville inches, but overall length on Catalina was 7″ shorter than Bonneville and StarChief at 213.7 inches.
The 1959 Pontiacs featured a "split grille", which came about by accident when the styling studio was exploring grille design. Experimentally, a design for a conventional, full width, oval grille, containing horizontal quad headlights, was cut in two and the halves transposed. With the lights remaining at the extremities, this gave the split center, open ended look of the '59 Catalina. Along with the wider body came a 5″ wider chassis in which the wheels were moved out towards the fenders. This not only improved the appearance of the car but led to improvements in ride and handling – spawning the term "wide track" ride and handling which Pontiac would use in its promotional efforts for many years to come.
All Pontiacs were powered by various renditions of the new 389 cubic-inch Tempest V8 (which was later renamed from 1961 as the Trophy V-8), which was basically a version of the previous 370 cubic-inch V8 with stroke increased to 3.75 inches. Catalinas came standard with a 235 horsepower version of the 389 with two-barrel carburetor and 8.6 to 1 compression mated to the three-speed manual transmission. When the optional four-speed Hydramatic transmission was ordered, the standard engine was 280 horsepower version of the same engine with higher 10.5 to 1 compression ratio. Available as a no-cost option with the Hydramatic transmission was the 215-horsepower 389 (dubbed the Economy V8) with 8.6 to 1 compression ratio which burned cheaper regular gasoline, instead of the premium and super-premium fuels required for the high-compression engines, and capable of achieving more than 20 MPG on the highway. Optionally available at extra cost were higher-power versions of the 389 V8 with four-barrel carburetion rated at 283 horsepower with manual gearbox or 303hp with Hydramatic, a 4-barrel carburetor version with a horsepower rating of 318hp, or "Tri-Power" options with triple two-barrel carburetors and 330hp or 345 hp.
The Pontiac Catalina Safari station wagon at the Midwest Dream Car Collection features some mild customization while maintaining the feel of what rolled off the assembly line back in 1959.
The exterior sports a two-tone mint green and ivory finish which screams 1950s and is highlighted by a custom tri-tone vertically pleated interior in ivory, mint green and coral vinyl. Our Safari wagon also features the flip-up rear facing third row seat which was a popular option at the time.
All 1959 Pontiacs were powered by various renditions of the new 389 cubic-inch Tempest V8. This car maintains its original 389 engine which is mated with the optional factory correct "Tri-Power" triple two-barrel carburetor set-up yielding an impressive 330 horsepower. Modern updates include disc brakes, and aftermarket air conditioning.
Wikipedia
Encyclopedia of American Cars