1966 Ford's Mustang Sonny & Cher's Kustom Convertible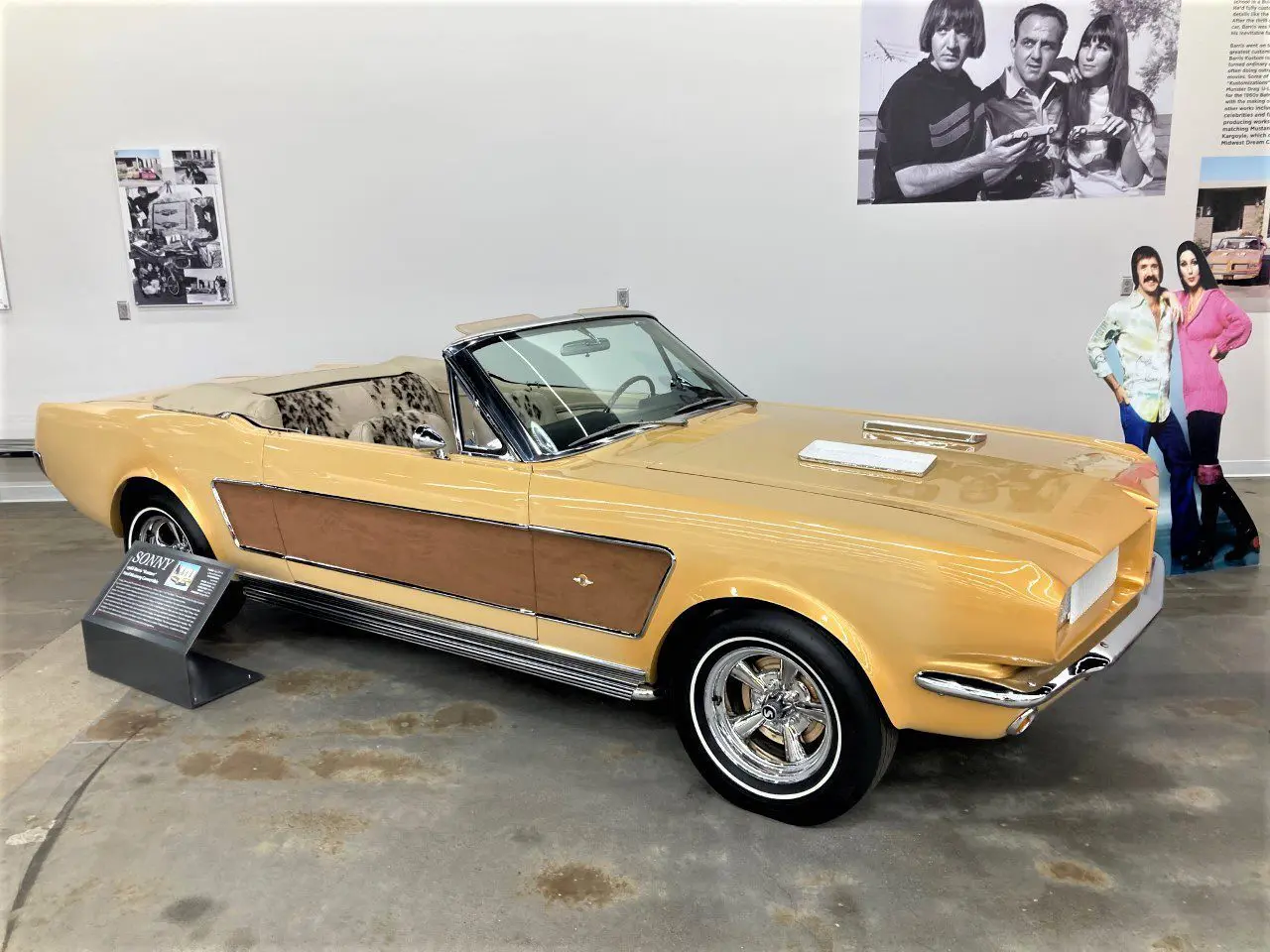 In 1965, Sonny and Cher took over music with a #1 debut single, "I Got You Babe." This was followed by their Look at Us album, which remained #2 on the Billboard Charts for eight weeks straight.
According to Matt Stone, "This groovy husband and wife duo had charm, a knack for writing or choosing the right songs to perform and record, and legit musical talent. It helps that they were attractive too: Sonny, a compact guy, had the hair, the 'stache, and the bellbottoms and Cher brought her own smoky brand of sexuality to the team. They were so popular they ended up with their own television show in the early 70s, and even after divorcing, outlasted their legal parting to still get TV and concert audiences rocking in the isles [sic] throughout that decade and beyond. And they sure drove a cool pair of Mustang customs."
George Barris, the "King of Kustomizers," put a dramatic and far-out Sonny and Cher twist on each of those cars to match the stars' personalities. Many believe that the build was contrived among Barris, Sonny, and Cher together as a promotion for the celebrity couple and for Barris' 'Kustom' Shop.
Ford pulled Sonny and Cher's Matching Mustangs from production specifically for the iconic pair. The two cars have nearly matching serial numbers that are separated by only one digit.
Covered with white ermine-fur upholstery and trimmed in hot-pink suede, the interior of Cher's Mustang is quite outrageous. The decor also features three-inch Mouton fur carpeting in hot pink.
Sonny's Mustang is similarly tricked out but looks almost tame in comparison. His is tan and features dark-brown suede side panels. The interior is upholstered with bobcat fur and antique buff leather trimmed with rustic suede.
Stone remarked that "both cars were 289-CID V-8 convertibles with automatic transmissions. Sonny's car was a 289 A-Code four-barrel car engine 225 horsepower; Cher's a slightly less aggressive 200-horse two-barrel carbureted car. Both have power steering and power brakes but no air conditioning, and floor shifted 3-speed automatic transmissions, faux wood trimmed steering wheels, and full-length center consoles. Pretty much bread and butter cars, which was to Barris a blank canvas."
Externally, both cars were customized with flared wheel wells, dual simulated hood scoops, and repositioned flush-mounted door handles. Barris heavily customized the fronts of both cars with dual openings and rectangular headlights. The rears sport Ford Thunderbird taillights. Both cars are equipped with Raider custom wheels and 40 coats of lacquer paint, a trademark of George Barris.
Both cars' restorations are fully and enthusiastically endorsed by George Barris.