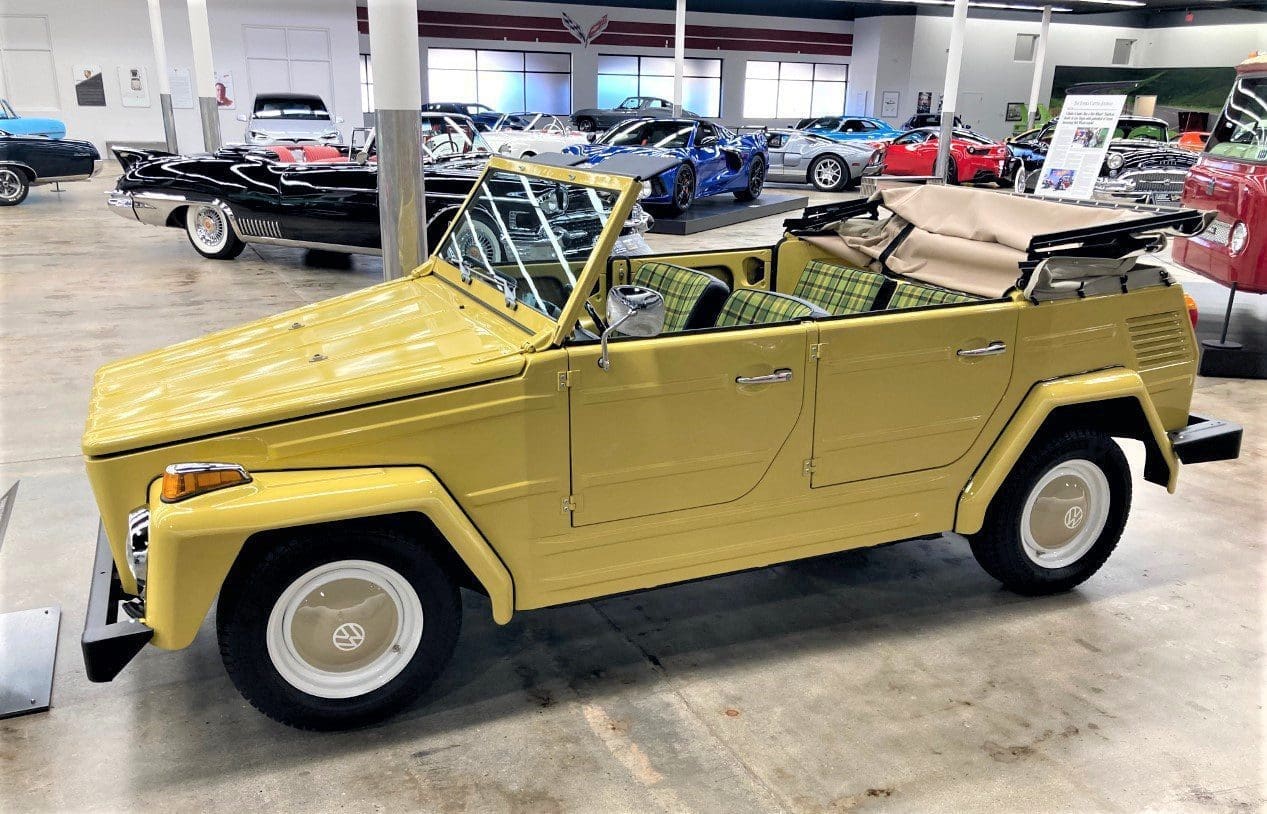 The Volkswagen Type 181, also known as the "Thing," is a two-wheel drive, four-door convertible manufactured by Volkswagen for 15 years, from 1968 to 1983. Originally created for the West German Army, the type 181 was also sold to the public and marketed, strangely, as "The Thing." Promoted as the car that "can be anything," it came with removable doors and top, a foldable windshield, and seats that folded down—it could transform into whatever the consumer needed.
The Thing was manufactured in Wolfsburg (1968–74) and Hannover (1974–83), West Germany; Puebla, Mexico (1970–80); and Jakarta, Indonesia (1973–80). It shared its mechanicals and parts with Volkswagen's Type 1 (Beetle) and the pre-1968 Volkswagen Microbus. It shared its floor pan with the Type 1 Karmann Ghia and its concept with the company's Kübelwagen, which had been used by the German military during World War II.
The 1600-cc engine is paired with a four-speed manual transmission similar to that of the Type-1 Beetles. The power output from the air-cooled rear-engine was about 46 horsepower. The car was adapted from its civilian version for military use with a higher ride height, lower effective gearing, and low-noise ignition systems to allow radio use.
At least there's one car that's good for more than one thing. In the snow, "The Thing" is a warm 4-door soft top. On the beach you can take the doors off, lower the top and it's a cool no-door, no-top. Want to see a movie? Why not. Flip down the front windshield and you won't miss a thing. How about that big load on your mind? How about it. The same back seat that's good for sitting flips down to make it good for loading. But even though "The Thing" is tough and has an air-cooled rear mounted engine to match, it's not tough to drive. So it's good for whatever you want to make of it: dune buggy, surrey topped courtesy car—anything you like. "But what is the price?" $2,750.00 is the least Volkswagen could do to help make a good thing even better.
—Volkswagen advertisement
Volkswagen thought this car was so ridiculous that they literally called it "The ridiculous Volkswagen Thing" in an advertisement.
Its all-steel body is about all the car has going for it. It's down to the bare bones of what a car should be, but it is useful for many purposes. The car was a hit because of its versatility, and it remains a great collector car even today. The car before you is in excellent condition, almost as if it were new from the factory.
The Thing featured in the Midwest Dream Car Collection has a sunshine yellow (German) paint job and a yellow Westfalia plaid interior. It's an award-winning matching-numbers car that underwent a nut-and-bolt restoration completed in October 2015. All parts are new or restored to like-new condition.
Apart from being repainted to its original color, the engine is located in the rear of the car and is a correct AM 1600 cc (completely rebuilt to pristine condition). The chassis has also been rebuilt, and it contains an original gasoline heater (in the trunk), new rubber throughout, new tires, a new vinyl top, and Westfalia upholstery.