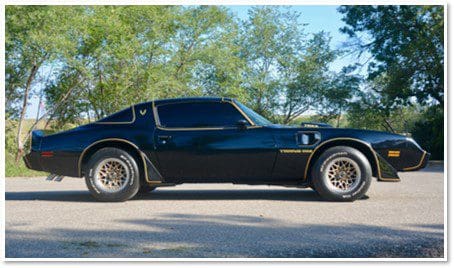 The Trans Am was contrived when General Motors decided to put a rival to the Chevrolet Camaro under their Pontiac name in 1966. Under the direction of general manager John DeLorean, this muscle car became known as the "Firebird." It wasn't his perfect idea of a car, but he decided to make the best of it. Given a direct order to make something better than the Z/28 Camaro, the engineers at Pontiac had their work cut out for them from the start.
Fast-forward 13 years to 1979, and muscle car evolution has brought about what lies before you: a Pontiac Trans Am in all of its glory. Following Burt Reynolds' movie Smokey and the Bandit, released two years earlier, the Trans Am had become an American icon that everyone wanted their hands on, and it was actually attainable for many consumers in the market.
Although the car can't actually jump over bridges like Bandit, it does have quite a bit of power, with 220 horsepower coming from its 403-CID engine. Production numbers for 1979 were the highest for any Trans Am model year, at 116,535. The car before you is featured in the Smokey and the Bandit color scheme of black with gold accents and firebird. The only option on the car was the engine, with either a 400-CID or a 403-CID CB radio also came standard and is featured here. The styling was modified slightly in 1979 for the car's ten-year anniversary.
The Trans Am wasn't made for the family, and it wasn't made with great attention to detail. It was built for the sole purpose of being loud and (somewhat) powerful. The Ram Air intake in the center of the hood is completely useless—it was added solely for show—but the NASCAR-style rear spoiler is actually functional at high speeds. The Trans Am also features a common Pontiac look in the nose, with a divided grill and square, individual headlights.
Compared to other cars of its era, the Trans Am is a classic, and it will forever hold a place in the hearts of millions. Other movie-famous cars are much harder to find and more expensive to buy, but the Pontiac Trans Am became such an icon because it was so attainable. Although it may be remembered mostly for its movie cameo, the Trans Am "screaming chicken" will forever hold a place as one of the last true greats in muscle car history.
While many consider this the last of the genuine "muscle car era," most of the competitor cars from Ford and Dodge became sad attempts at American V-8 muscle with newly added economy and efficiency. To keep the American dream alive, GM give this T-top, two-door Trans Am a massive 6.6 Liter V-8, automatic transmission, and hood paint that cannot be ignored.
Gunnell, John A. (2007). Standard Catalog of American Muscle Cars 1973-2006. Krause Publications. ISBN 978-0-89689-490-7.
Gunnell, John A. (1998). Illustrated Buyer's Guide, Firebird – 3rd. Ed. MBI Publishing Company. ISBN 0-7603-0602-8.