1997 Dallara IndyCar (Robby McGhee, Rookie of the Year)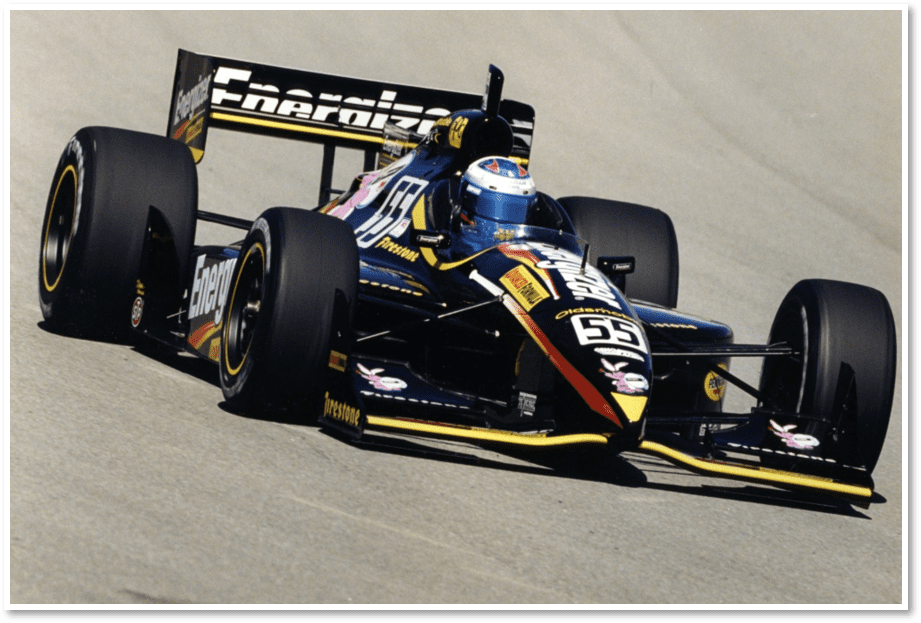 *The information in this document is provided largely by RMRacing.com. The full citation is listed below along with a link for this information and more.
This IndyCar still sports its original Energizer Motorsports, Oldsmobile, and Firestone sponsorships and racing livery. It's an F1-style car made by Dallara Automobili in Italy. It sits in a complete and ready-to-race condition. This car was originally sold to A. J. Foyt in 1997, then to Greg Ray in his rookie-year Indy Racing League run in 1998, and finally to the team of 1999 rookie Robby McGehee.
IndyCar racing is a premier-level racing series that features cars with an F1-style open-wheel design. The IndyCar Series races across North American on oval-shaped tracks. The highlight of each season is the Indianapolis 500 at the Indianapolis Motor Speedway.
Dallara is an Italian chassis manufacturer for numerous racing series. Most notably, they have had a near-monopoly in the Formula Three Series since 1993. 1997 was their first year of production in the IndyCar series, making Italian racecars for the American Market and oval races. The Dallara and G Force chassis were relatively evenly matched over their first few seasons, but eventually the Dallara began to win more races. This caused more teams to switch over, further bolstering their success. As of 2017, a Dallara chassis has been used by 17 Indy 500 winners, although there have not been any competing manufacturers since 2012.
The chassis of this car is a Type IR7, frame number 017, from 1997. It features an Aurora V-8 engine that will produce 700 horsepower at 10,500 RPM. The body shell is an all-carbon fiber production and sports the black Energizer colors and livery.
About Robby McGehee
Robby McGehee started racing at the age of 15 in the Skip Barber Racing School before moving up to the USF2000 series in 1996. Entering the series full-time in 1997, he posted the fastest lap ever at Pike's Peak (133.131 mph). In 1998, he teamed up with RM Conti Racing and became a contender for the USF2000 title. Two wins and eight podiums in 14 races positioned Robby as the second-straight runner up in the Oval Crown Championship, setting yet another record for fastest-ever lap in Atlanta (137.064 mph).
Robby then teamed up again with engineer Dave Conti, under the Energizer Racing Sponsorship, to compete in the Pep Boys Indy Racing League for the 1999 season. He proved his abilities by driving from the 17th starting position to a fifth-place finish at the 1999 Indianapolis 500 in his second-ever start, an accolade that can only be compared to racing legends of the past like Jacques Villeneuve, Rick Mears, Nigel Mansell, Mario Andretti, Mark Donahue, Jim Clark, and Arie Luyendyk.
Robby continued on in his racing career and with his computer consulting company, XRM Research, LLC. He earned a Rookie of the Year award in this particular car, which he then presented to his team mechanic, Steve Fried, who had been severely injured in the race but helped push Robby to his magnificent finish.
Robby went on to race several other IndyCars in starts under new sponsorships until retiring in 2004 under PDM Racing. His favorite track was the Indianapolis Motor Speedway, and his favorite career moment was winning Rookie of the Year at the '99 Indianapolis 500. Robby is now married to Norma Oteham and has three kids. He resides in St. Louis, MO.
https://en.wikipedia.org/wiki/Robby_McGehee

http://rmracing.homestead.com/

https://www.dallara.it/wps/portal/en/about/!ut/p/z1/04_Sj9CPykssy0xPLMnMz0vMAfIjo8zijS18XQ29vQ28DFw9XAwcDYKMXV0DA40Mwoz1w8EKDHAARwP9KGL041EQhd_4cP0ovFYEmUAV4DGjIDc0wiDTUREArqcw4A!!/dz/d5/L2dBISEvZ0FBIS9nQSEh/#.XD-Zgc9KhYg

https://en.wikipedia.org/wiki/Dallara