2010 Tesla Roadster Sport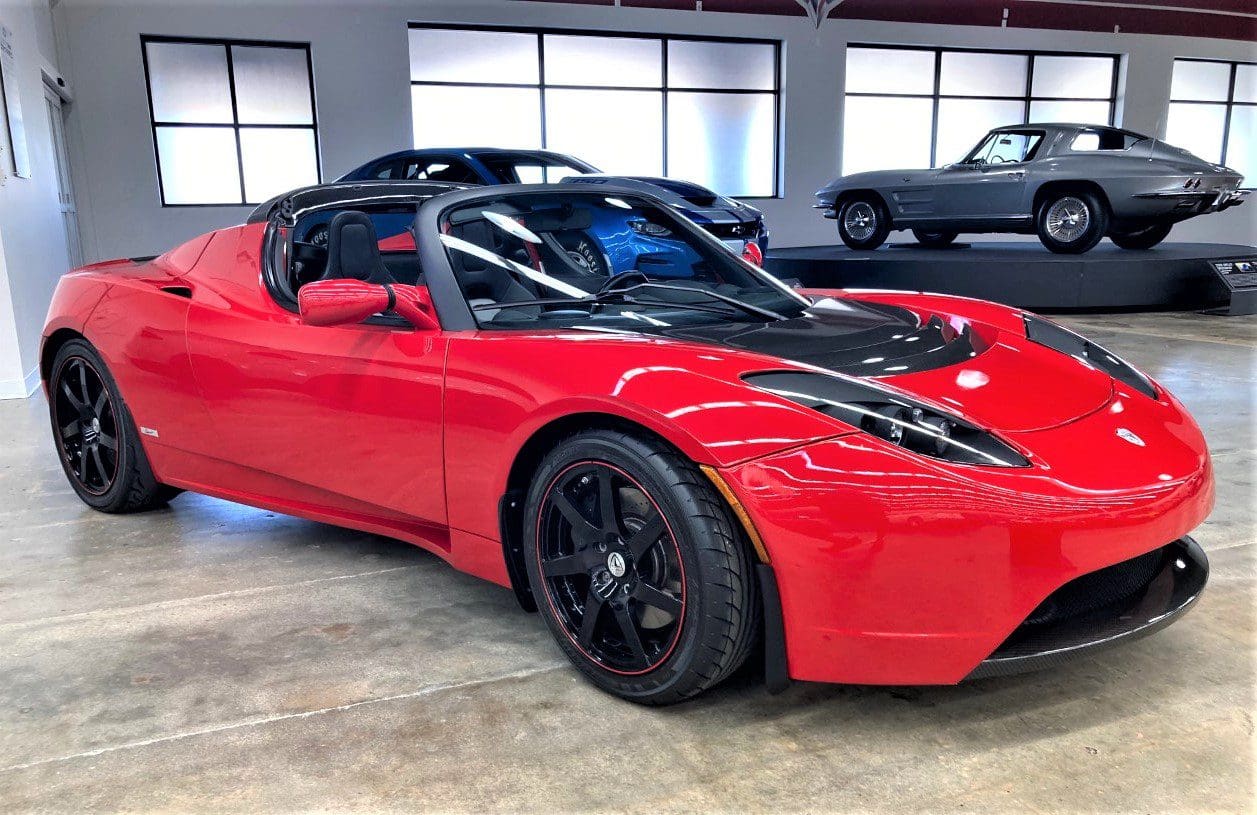 Tesla has become a massive buzzword both within and outside the automotive industry. The name represents a different, innovative, and original company that has changed the way the world thinks about cars and transportation.
Tesla Inc. was founded in the United States by Martin Eberhard, Marc Tarpenning, Elon Musk, JB Straubel, and Ian Wright. Initially, Musk was the controlling investor; however, the company's name came from the inspiration that Eberhard and Tarpenning found in engineer and physicist Nikola Tesla. Today, the Tesla company is commonly known for its sedan and SUV models: the Model S, Model 3, and Model X. However, the car that is often overlooked is the original electric vehicle the Tesla Roadster.
Originally introduced in 2005, the Tesla Roadster was as an all-electric sports car that came from an agreement between Tesla and Lotus, a British sports-car maker. The companies agreed that Tesla could use body styles and components of the Lotus Elise. Between 2004 and 2007, Tesla's creation evolved through a number of prototypes. The very first Roadster was delivered to Musk, the project's architect, in February 2008.
This Tesla Roadster is featured in Radiant Red Metallic with carbon-fiber accents that are similar to the ones currently orbiting Earth as a result of Musk's SpaceX operation. Thanks to Tesla's original lithium-ion battery technology, the car is 100% battery powered. Its 56 kWh 375 V lithium-ion battery runs through a single-speed gear-reduction transmission. No traditional car batteries are used to power the vehicle. Instead, this Tesla relies on cylindrical batteries similar to those found in consumer electronics.
The Roadster's name comes from the removable top, which is available in both a hard-top configuration and a soft-top configuration similar to the one owned by MDCC. Styling is notably similar to Lotus's designs but not very alike in terms of actual parts used.
According to Darryl Siry of Tesla, "One of the more common misconceptions about the Tesla Roadster is that it is an electrified Lotus Elise. This has been an interesting problem to deal with because the Tesla is vastly different from an Elise and it is important that people are aware of this. In fact, we recently counted how many parts the two cars shared, and the total number was under 7% by parts count. If you were to analyze it by parts value, the number would be even smaller.
"So, you could say that the Tesla is similar to a Lotus Elise, except it has a totally different drivetrain, body panels, aluminum tub, rear sub-frame, brakes, ABS system, HVAC and rear suspension. The Tesla also neglects to carry over the gas tank, emissions equipment and exhaust. If you were to try to convert an Elise to a Tesla and started throwing away parts that aren't carried over… you would basically be left with a windshield, dashboard (complete with airbags!), front wishbones and a removable soft top."
For 2010, a number of upgrades were added. The executive interior included all sorts of new exposed carbon-fiber pieces as well as the push-button gear selector. A small centrally mounted display screen monitored real-time data such as estimated range, power regenerated, and barrels of oil saved.
The shock absorbers' response and anti-sway bars became manually adjustable, more powerful, and immediate. The heating, ventilation, and air-conditioning plus a more efficient motor and hand-wound stator increased the motor's efficiency and delivered higher peak power.
Engineers at Tesla added pellets to the chassis side rail. These pellets were made of material that could expand dramatically upon heating, which provided insulation within the car. This was part of a sound-deadening measure to reduce exterior noise coming into the small Roadster.
The Tesla Roadster marks the start of a company that has continued to raise the bar for electric vehicles and renewable energy. After massive success with its beloved models, Tesla has become quite reputable. Because it is in a territory of its own, the company often struggles with negative press and rumored bankruptcy scares. However, even in a tough market run by the big-three automakers, Tesla holds its own, fighting a tough and never-ending battle to not only maintain its reputation but also innovate.
The Midwest Dream Car Collection currently has a 2020 Tesla Roadster on order with a deposit submitted. As a base model, the 2020 is said to be the fastest-accelerating and highest-torque production car ever made. It will have a top speed above 250 mph, a 600-mile range, and seating for four. Tesla has come a long way since the 2010 Roadster, which had two seats, a 160-mile range, and a top-speed of 125 mph. However, in the quest for making the world's best electric vehicles, the company has stayed true to its roots and mission.