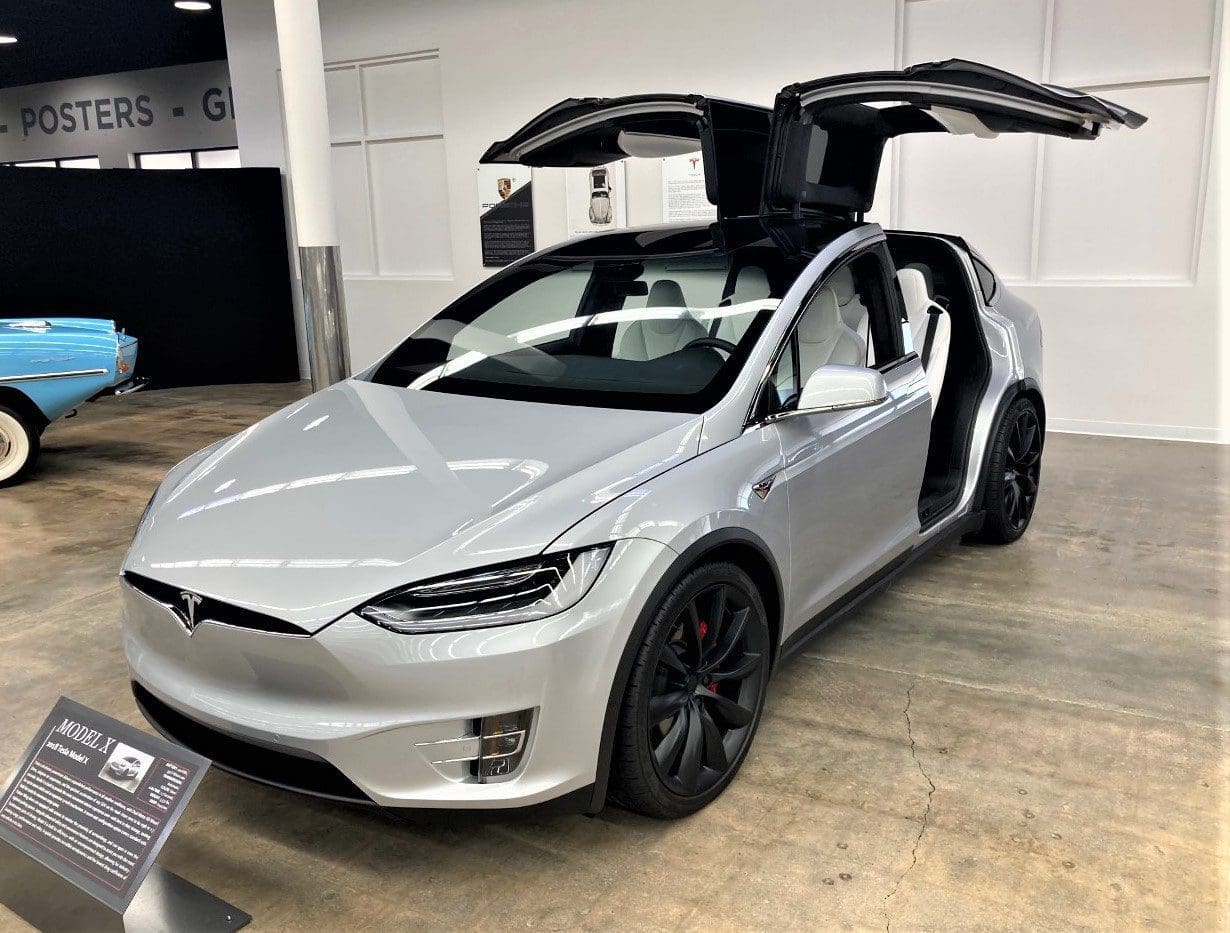 The 2018 Tesla Model X is an all-electric sport utility vehicle. It is equipped with dual three phase, four pole AC induction motors providing power to all four wheels. Available in five- or seven-seat versions with all-wheel drive standard, its rated ranges of 238 to 295 miles should deliver at least 200 miles in most circumstances even at highway speeds. Tesla doesn't offer traditional trim levels, but the Model X has three versions: the "75D" has a 75-kilowatt-hour battery pack, the "100D" has a 100-kwh pack, and the top-of-the-line "P100D" also has a 100-kwh pack but more powerful motors. It's Tesla's hot-rod crossover SUV, a vehicle with startling acceleration.
The most noticeable and distinctive feature of the Model X are its so-called falcon doors, which replace side-hinged rear doors with door-sized side panels that pivot up from the center of the roof. When raised, they attract gawkers and curious onlookers who want to know all about the car. Starting at $85,000, the Tesla Model X is an expensive vehicle that shares most of the positive aspects of the Model S while it adds more seats, more cargo space, and—unique to a battery-electric vehicle—5,000 pounds of towing capacity. Towing with an electric vehicle causes range to plummet, but the Model X can do it if you need it.
The Tesla Model X at the Midwest Dream Car Collection is the top-of-the-line P100D performance edition finished in additional cost silver paint. It is equipped with the optional six seat interior with center console in an eye catching premium white leather. Additional optional equipment include: enhanced auto pilot, full self-driving capability and 22" onyx black wheels. These additional options add an additional $20,500 to the already hefty $140,000 P100D base price. Standard features included on the P100D model are ludicrous speed upgrade, battery range upgrade, dark ash wood décor, tow package, ultra-high fidelity sound package, smart air suspension, third row seats, red brake calipers and high amperage charger upgrade. All of this combined with an exhilarating 2.7 second 0-60 speed make this one fun SUV!